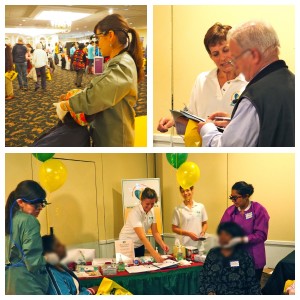 Wortzel Integrative Dental Care recently teamed up with the Union County Senior Citizen Counsel. "Senior Citizens often are an age group whose dental needs are not given enough attention. Xerostomia (Dry mouth) and periodontal disease (gum disease) are the two main diseases that lead to loss of teeth," said Dr. Robert Wortzel.
Recently the dental team participated in the annual Senior Citizen Health Fair for Union County at L' Affaire in Mountainside where over 300 seniors were able to gather information on important health topics. Dr. Lisa Wortzel and Dr. Mumta Hathiramani educated the members about the importance of routine dental care and oral cancer screenings for all interested seniors. Additionally, both doctors provided oral cancer screenings for all who were interested. "We were thrilled by the enthusiasm of all the seniors we spoke with. We are so happy to be a part of dental team that takes a proactive approach to oral health care especially for a growing population with unique dental needs," said Dr. Lisa Wortzel and Dr. Mumta Hathiramani.
Please read below for important information about Oral Cancer and Dry Mouth that was provided at the health fair.
WHAT YOU SHOULD KNOW ABOUT HAVING DRY MOUTH:
Dry mouth can be caused by increase in age, smoking, multiple medication use (especially blood pressure and depression medication).
There are many problems caused by dry mouth syndrome such as:
Irritation of the soft tissue in the mouth which leads to sores and infection
Tooth decay and gum disease
Increased rate of cavities and bad breath
WHAT YOU SHOULD KNOW ABOUT ORAL CANCER
Each year in the US, 40,000 new cases of mouth and throat cancer are diagnosed and HALF of those patients die within 5 years
Risk factors

Tobacco use
Excessive alcohol consumption
Use of betel nut and bedis
Excessive unprotected exposure to sun
Low intake of fruits and vegetables
HPV 16 viral infection
Increase in age
Race and ethnicity
Recurrence
Gender (higher chance in males)
Early Indicators

Red and/or white discolorations of soft tissue in mouth
Any sore that does not heal within 14 days
Hoarseness that lasts for prolonged period of time